Organise a company outing on the water in the Netherlands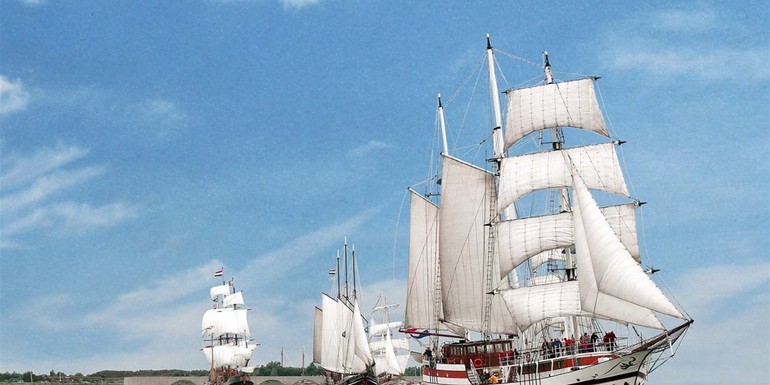 Are you ready for a fun event, is a colleague celebrating 25 years of service or do you want to do something fun with business partners? A ship in the Netherlands is the ideal location for a well-earned company outing. For large and small groups! Whether it is a company party, incentive or business meeting, on a traditional sailing ship you are at the helm. In this blog, we list a few possibilities.
Afternoon sail with colleagues
Nothing beats an afternoon out on the IJsselmeer or Markermeer in the Netherlands with your colleagues. Leave the office for a while and feel the freedom on the water. With the wind in your hair, enjoying the view, the afternoon sun and a snack and drink. Have a nice chat with your colleagues while the crew provides snacks and drinks. Of course, anyone who wants to can help with the sailing and even take a seat at the helm with the skipper. But you don't have to. An afternoon of sailing is all about having time for each other, relaxing and enjoying.
Sail trip with activity
You can also alternate the sailing trip with a fun activity ashore. For example, sail to Urk and organise a nice Ginkie trip through the old centre, choose Volendam and eat fresh fish on the cosy Dijk while enjoying the typial 'Volendammer Palingsound' or visit the outdoor museum in Enkhuizen, where we can moor the ship in front of the museum. These are just a few examples. In principle, we can sail to any port on the IJsselmeer or Markermeer.

You can also opt for a nice day programme about microplastics, which we have put together with The Ocean Movement. During the cruise, you will learn all about plastic and fish for microplastics in the IJsselmeer, Markermeer or Wadden Sea, among other places. A fun day on the water, with impact!

Do you prefer the peace and quiet of a beautiful nature reserve? Then sail to Nieuw Land National Park and visit the Marker Wadden. A new nature reserve in the Markermeer, created by human hands. A walk becomes really special if you also take a guide along on the hike.

Are your colleagues active? Organise a sailing clinic or hire two sailing ships and hold a sailing regatta against each other. Fun is guaranteed.
Teambuilding
When you say sailing, you say team building. Ideal for when you want to get to know new colleagues better or when there is a need for better cooperation. Divide your colleagues into groups and learn to work together on a ship. If you have a little more time, extend the teambuilding outing with an overnight stay in a cosy harbour town. Nothing creates a better we-feeling than sailing together, cooking and chatting or going out late into the night. This is how you really get to know your (new) colleagues.
Sailing and meetings
Make meetings more fun and organise a meeting outside the door. A traditional ship is not only a special meeting location with all the necessary facilities for a brainstorming session, a special day, a presentation or a meeting. But you also have a fun activity to do during the break. You can choose from a team-building session or just clear your head during a trip on the water. This way, you combine the useful with the pleasant and if you organise a cosy BBQ or buffet after the meeting, everyone will drive home after the traffic jam.
Something to celebrate?
Do you have something to celebrate and want to make the day extra special? There are various options for this on a traditional sailing ship as well. Of course, you can decorate the ship and hoist the company flag in the mast. But we also think about music, a DJ, festive welcome drinks, something nice with coffee, a cocktail or special snacks and drinks provided by the crew during the sailing trip. You can also pamper the group with a cosy buffet in the middle of the water or a delicious BBQ at sunset. How special is that? These are just a few examples. Let us know your wishes and together with the skipper we will see what is possible to make it a special day.
Something fun with business partners
Are you looking for a special location for your customer day or a relation event? Surprise your relations with a cruise on the IJsselmeer, Markermeer or the Wadden Sea. Many of our ships are equipped with a sound system, beamer, screen and they also lend themselves perfectly to a product launch, workshop, brainstorming session or presentation. It is also the ideal setting to pamper your business relations. You have the opportunity to choose from 16 departure ports, so there is always one nearby. And if you choose to stay in the port, you will get a nice discount too.
Out on the water with colleagues?
Whether you opt for a big party, a day of teambuilding or a (short) weekend outing with your colleagues, there are many possibilities aboard NAUPAR ships. As soon as you know how your company outing will take place and the approximate number of people, you can use these tips to choose a ship and organise a fun day out.
Will you step aboard with us?
NAUPAR has more than 40 years of experience in organising company outings on the water. Take a look at the sailing ships at NAUPAR and check availability or contact our staff directly and ask about the possibilities. They will be happy to advise you on organising an unforgettable company outing.Out on the water with colleagues?