Challenge I Plastic-free tips for on board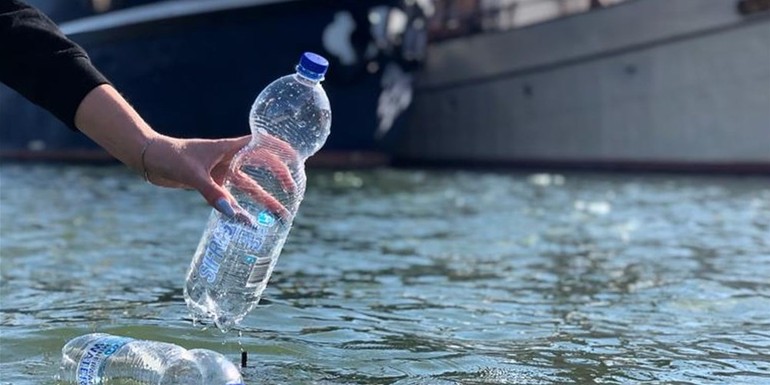 Every day, we open about seven plastic containers on average. In America alone, more than 30 million plastic water bottles are bought every minute and more than a million plastic bags are used every minute worldwide, for an average of 12 minutes. So it is time for action.

We are happy to contribute to reducing plastic. Why? Because the production, burning and recycling of plastic and plastic pollution play a role in climate change, and because a rubbish truck load of plastic waste ends up in the sea every minute. Plastic that does not decompose, but slowly disintegrates into tiny particles of microplastics. It is now everywhere. Also in the water we enjoy sailing on, as we recently found out during a sailing trip with Dopper and the Ocean Movement. By avoiding disposable plastic and choosing alternatives, we prevent even more plastic particles from ending up in the water. It's small steps, but every step is one. Will you join this challenge?
Which plastic-free choices you can easily make yourself
Most plastic is used as packaging, as much as 40 per cent. Unfortunately, that packaging is only used once and most of it is not recyclable. Hence, we start this challenge by avoiding disposable plastic when shopping and in the galley.
Forget disposable plastic water bottles. The water on board the ships is fine to drink and there are enough glasses for everyone. Are you going out? Then use a reusable water bottle. That will soon save a lot of bottles anyway. Do you know that one million plastic bottles are bought every minute worldwide?
Leave disposable cups behind. There are enough cups and glasses on board for large groups and, of course, you can always bring your reusable drinking cup.
Bring your own lunch box for lunch. That way you avoid plastic bags to carry your lunch when you go on an excursion
Avoid unnecessary plastic packaging. For example, leave biscuits, bars and/or sweets that are individually wrapped in the shop and choose alternatives.
Buy fruit and vegetables loose and cut them yourself. Cosy and you avoid pre-cut vegetables by doing so. Those are handy, of course, but are often wrapped in plastic. As an alternative, bring your own bag to put the vegetables in or go to the local market where you can buy everything without packaging. That way you avoid plastic, eat local and also of the season. You can't do better for the climate.
Opt for cardboard packaging. Rice, oatmeal and pasta, for example, are also available in paper packaging.
Make coffee with a filter. On board most ships we use filter coffee which again saves a lot of plastic cups.
Choose a wooden washing-up brush. A good alternative because it is more recyclable after use. There are also natural alternatives to scouring pads and cleaning cloths.
Don't buy new plastic bags. Bring your own shopping bags or reusable (collapsible) crates, or if you have room for it, a wagon like this guest did the other day.
Recycle. If you did buy something made of plastic, keep it separate and throw it in the plastic bin after your sailing trip.
With these steps, you are already reducing a lot of plastic waste on board. Bravo! We are very curious to see what it looks like. Take a photo of your plastic-free purchases for us or tag #naupar or @naupar on social media. Good luck with your plastic-free mission.
One last tip to reduce your plastic footprint
The Plastic Soup Foundation offers more tips on what you can do about the plastic soup. Among other things, they do this with the app My Little Plastic Footprint, which lets you discover which plastic items you use, where you can reduce and what alternatives there are. This way, you can further reduce your plastic footprint step by step.
Want to go on a Plastic Soup Expedition or a sailing trip yourself?
We have developed the Plastic Soup Expedition arrangement especially for schools. But of course you can also just take a nice sailing trip on the IJsselmeer, Markermeer or Wadden Sea. View the extensive offer or contact our staff. They will know exactly which ship or arrangement suits your expectations and wishes.